Ho Chi Minh (HCM) City's Party Secretary Le Thanh Hai and People's Council Chairman Pham Phuong Thao yesterday met with visiting Singaporean Minister Mentor Lee Kuan Yew in the city at separate receptions.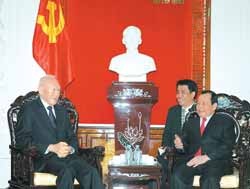 HCM City's Party Secretary Le Thanh Hai ( R ) meets with visiting Singaporean Minister Mentor Lee Kuan Yew.
Party Chief Le Thanh Hai appreciated the effective support from Singapore to the city, which focused on education and training, economy, urban management and transport planning. He expressed thanks for Singapore authorities' valuable support for HCM city namely granting English language scholarships to the city's State employees...
Minister Mentor Lee epressed his joy that ater 10 years, he managed to visit HCM city again and witnessed the thorough development of the city. He also told the city's leaders that the city should accelerate its administrative reform, and privatisation as well as concentrate on investing more in infrastructure, and improve the quality of education and training. He sincerely believed that the young generation of HCM city study more and more, work harder and harder and will innevitalbly score more and more successes.
Mr Hai said that Singapore set a bright example for HCM city not only in economy, education.. but on administrative reform and anti-corruption as well. He highly appreciate the setting up "Vietnamese House" in Singapore by the Singaporean government to help attract investment and enhance tourism to HCM City.
The same day, Mr Lee met with some foreign enterprises' associations in the city, visited the Phu My Hung and Thu Thiem urban areas.