Seven houses fell into the Xom Cui River in Binh Chanh District of Ho Chi Minh City early Saturday, causing panic for 60 residents who ran helter-skelter in an attempt to save themselves, though no casualties were reported.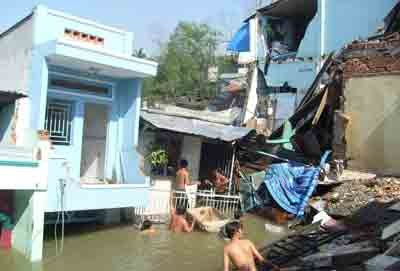 Residents try to grope for properties from the collapsed houses (Photo: SGGP)
The incident rendered many homeless as their properties worth hundreds of millions of Vietnam dong were swept away.
Ten other houses are also near collapse as wide cracks have appeared along the walls.
Locals said they had reported the possible dangers of collapse to the local government as they had seen cracks along the walls of the houses ten days ago; however, the government showed no interest until the incident occurred.
Binh Hung commune administrators immediately mobilized the police force, youth and construction inspectors to evacuate the entire landslide affected area, remove movable properties and assist the people.
Commune authorities have decided to compensate each affected household with VND2 million (US$150) and district authorities will give a further VND7 million. Most of the houses were constructed in 1999 and 2001 while some others were built in 2009.