Ho Chi Minh City should seriously implement urban development plans, intensify sanctions against illegal construction and develop suburban residential areas to reduce population density and road pressure inner the city to deal with rampant traffic jam, said experts.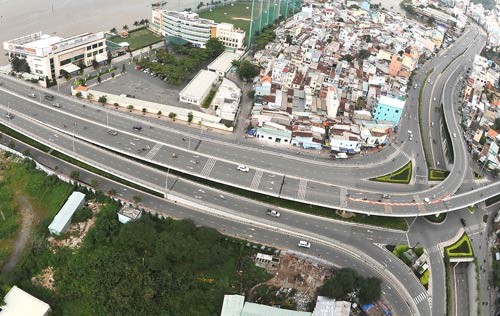 Traffic infrastructure should be built ahead in urban development to solve traffic jam (Photo: SGGP)
According to Dr. Nguyen Trong Hoa, former head of the HCMC Institute for Development Studies, the Government approved the HCMC socioeconomic development plan by 2020 two years ago. It synthesized most plans of the city from urban development, traffic and drainage to schools and hospitals.
Therefore, there already has a basis for local authorities to manage and sustainably carry out plans towards traffic jam reduction and public transport development. The matter is how to do that.
Socioeconomic and development plans have not been seriously implemented in HCMC for a long time, infrastructures have not been built ahead of residential areas and building, Mr. Hoa said.
He proposed to strengthen sanctions against outside planning construction. Local authorities should not let houses and works built illegally, then just issue penalties as present.
Heavy fines should be imposed to those breaking traffic law and encroaching roadsides and pavements because propaganda has not worked so far. More traffic cameras should be placed along streets to deter violators.
Associate professor Ho Long Phi, director of the Water and Climate Change Institute of HCMC National University, said that the overloading of existing urban areas is one of reasons for traffic jam and flooding too.
Solving the overloading in these areas will be costly and negatively affected residents' lives. HCMC used to see many road works to improve drainage system and broaden streets block traffic for a few years ago.
Besides, inner infrastructure improvement will further attract residents to come to work and live in center districts to worsen the overloading. 
The best way is to stop improving the inner infrastructure and move to develop new residential areas with completed infrastructure in the outskirts. House prices in these areas should be attractive enough to draw residents out from overloaded center areas. Local authorities should also facilitate operation of businesses in the new residential areas to provide more jobs there. This has been determined in many construction plans of the city.
In addition, the Department of Transport should change into using small buses to suit the size of streets in HCMC, which will also be easier to develop this type of public transport in crowded residential areas, he suggested.

Related articles:
Outdated regulations obstruct HCMC efforts in traffic improvement
Traffic violation: top reason for unrelenting traffic jam in HCMC