The police also informed that the video clips recording images of gathering crowds, disturbing public order and causing traffic jams spread on social networks were old.
The aim of those who fabricated false clips were to incite and provoke people gathering, disturbing social and traffic order.
On June 17, HCMC police detained a man who pretended to disguise himself as a policeman, showing signs of agitation the mass.
At the police station, the man declared the name was Tran Quoc Tuan (born 1995, living in Hanoi). When being arrested, Tuan was wearing a coat printed with the police sign and the words "Ho Chi Minh City Police" and holding a fake police identity card.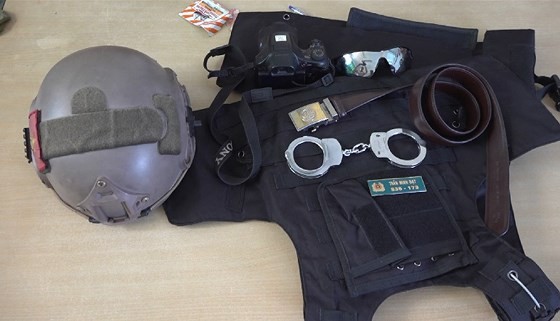 Tran Quoc Tuan's handcuff and other belongings
Earlier, the city police temporarily detained Nguyen Hung Thai (born 1995, resident of District 1) who also disguised himself as a policeman, wearing police uniforms and a hat with peak printed the Police symbol, carrying a handcuff; Vu Quoc Huy (born 1979, resident of Go Vap District) who wore a jacket with the police logo and the words "Police of Ho Chi Minh City".
These people were suspected of posing as policemen and intruding in the crowd with the conspiracy: If mass gatherings happen, they would assault people to slander the police forces.
Regarding the mass gathering of people causing public disorder in recent days, the Ho Chi Minh City Police issued decisions to arrest, detain and prosecute 7 persons over security disruptions, resisting against personel on duty, destroying or intentionally damaging the property.