Following a period of rice shortage resulting in a considerable price hike in Ho Chi Minh City, rice prices have started to fall back after local government stepped in and several major traders released thousands of tons of the main staple.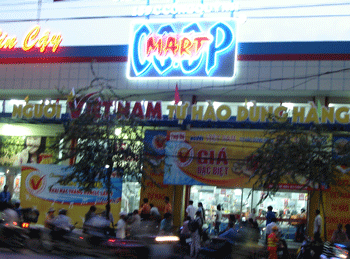 A large quantity of rice is stockpiled at Co.opMart (Photo:U.Phuong)
Sai Gon Trading Group (Satra), Vissan, and the Vietnam National Textile and Garment Group (Vinatex) have agreed to sell rice at previous prices.
Since April 30, Vissan's outlets have been selling rice, assured the company's CEO, Mr. Bui Duy Duc. Meanwhile, Vinatex intends to sell about 200 tons in districts 4, 7, 11, 12 and Tan Binh.
According to Ms Le Thi Quynh Chi, marketing manager of Co-opmart, her chain has received 5,000 tons of rice and that scenes a few days ago of long lines of anxious customers queuing up to snap up rice at her supermarket will not be seen again.
Since April 29, her trucks have been crisscrossing at least three wards and two industrial zones to deliver rice, she added.
Meanwhile, deputy head of HCM City Trade Department inspection Le Xuan Dai told reporters on April 29 that his men discovered no more millers, wholesalers or merchants hoarding the grain for speculative purposes in the city.
They earlier seized, pending investigation, a large amount of rice and a truck carrying 5 tons of rice at two millers at 28 Vo Truong Toan Street, Binh Thanh District and 1048 Highway 1A, District 12. 
Police suspect their owners were hoarding the rice and refusing to sell despite the mounting demand.
Market inspectors are being assigned to investigate and punish speculators, and to fine those responsible for spreading the recent rumors that Viet Nam, the second largest rice exporter, is lacking rice for domestic consumption.
Rice shops that have closed their doors or not displayed price tags would be given heavy fines in the next few days.
The HCMC People's Committee has reprimanded the relevant agencies for their slow reaction in dealing with the rice speculation and false rumor mongering.