The Ho Chi Minh City Department of Labor and Social Welfare convened a big pow-wow yesterday to collect ideas for reducing the number of child workers, particularly little kids engaged in dangerous work.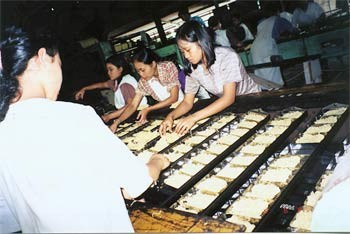 Children work in a factory
Most of the children who must work from an early age come from poor families, many of whom moved here from the countryside in search of a better life, according to a report that came out last December and was read to the assembled officials. They have to make money to support themselves and their families.

With no way of knowing who they are or where they live, it is hard for the authorities to help these children with public money.

To make matters worse, their employers are often tyrannical slave drivers who can easily intimidate a youngster and keep their underaged workers well hidden from the authorities.

"If we don't know exactly where the children gather or the factories that employ them, we can't come up with an effective solution to this problem," remarked Ms. Dinh Thi Bach Mai from the HCMC Department of Culture and Information.
Ms. Ho Tam from the HCMC Committee of Population, Family and Children said the city had to act now, if it wanted to reduce the number of child workers by 90 percent within three years, as the department is targeting.

Another report delivered at the meeting claimed that more than 1,200 children found tramping the streets or working in HCMC had been returned to their homes in the last three years.

Mr. Nguyen Van Xe, deputy director of the Labor and Social Welfare Department, concluded the meeting by asking for full cooperation from the other departments involved in the campaign.

Everyone present agreed the problem had to be solved, that all children should be given the opportunity to study and master useful skills. After all, they are the next generation.