Every year Ho Chi Minh City allots large amounts of money for fortifying embankments in erosion prone areas to stop landslides, but many obstacles impede this task such as site clearance, resettlement of residents and shortage of adequate funds.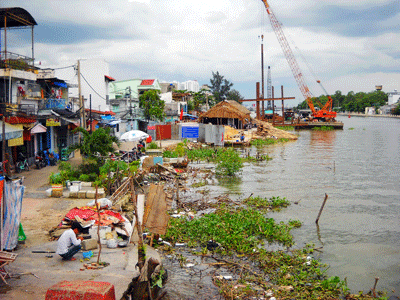 Construction of embankments along Thanh Da Canal in Binh Thanh District (Photo: SGGP)
This year the rainy season has brought in continuous and torrential rainfall causing insurmountable worry to hundreds of residents living along these highly landslide prone areas.
After every heavy rainfall or flooding, residents in Districts 2, Binh Thanh, Thu Duc, Nha Be and Can Gio worry about a breach on the river bank dyke system, which is simply constructed and hence weak and could burst at any time.
Along the Binh Quoi River in Linh Dong Ward of Thu Duc District, some cracks have already appeared. Embankments are made of Melaleuca leucadendra and soil put together and continuous waterway traffic of large boats also puts pressure on these fragile structures.
Much more dangerous and vulnerable are the embankments along Nguyen Van Huong Street in Thao Dien Ward where many high-rise buildings have been constructed with fence gates along the embankments.
Nha Be District has recorded 12 highly landslide prone spots in residential quarters in Hiep Phuoc Ward and Nhon Duc Ward where a landslide earlier swept away four rented rooms and two houses into the Doc Canal.
The City People's Committee had ordered the Department of Local River Management to implement landslide protection projects. However, these projects are facing site clearance problems and disbursement of compensation, which adds up to 30 percent of the total project money of VND148.7 billion (US$7 million).
Site clearance has hindered the construction of dykes in Thanh Da Canal in Binh Thanh District, Long Kieng River, Phuoc Loc and Tom Roi Canal in Phuoc Kieng and Nhon Duc Ward in Nha Be District, while expense for the landslide prevention project in Long Kieng exceeds the total approved investment of VND21.3 billion ($1 million).
The Department of Local River Management has proposed to the People's Committee to petition the Prime Minister to increase the investment amount for the project, so as to make it more viable.