Ho Chi Minh City yesterday afternoon suffered a heavy rain and strong winds that lasted for over an hour and resulted in floods and serious traffic jams.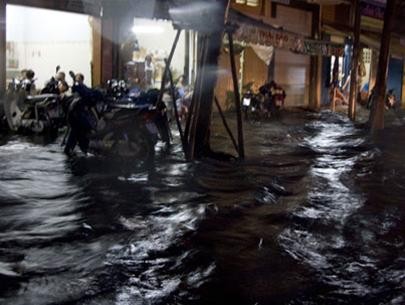 Water rushing into local homes on Ba Thang Hai street in district 10 (Photo: Tuoi Tre)
Nguyen Huu Canh, Ngo Tat To, and Bien Bien Phu streets in Binh Thanh district, ba Thang Hai, Minh Phung streets in district 10 and 11 were inundated under 30-50cm of water, which caused many passing motorbikes to break down.
Locals on Nam Ky Khoi Nghia Street in downtown district 3 and Ngo Tat To in Binh Thanh district had to use pumps to pump water out of their houses and place sand bags in front to block water from rushing in.
In district 3, a 10-m tree with a trunk 50 cm in diameter fell onto a house on Ly Chinh Thang street destroying its roof, two motorbikes and cut off the electric wire causing a blackout in the vicinity.
Luckily, no one was hurt.
The rain and winds also collapsed a steel barrier zoning an ongoing construction site on Nguyen Van Troi street, resulting in a serious gridlock which did not abate even by 7.30pm.