The Rach Chiec Sports Complex following the international modern standard will be built in district 2 of Ho Chi Minh City in the near future, yesterday announced at the launching ceremony of the scale-1/2000 zoning plan for the Rach Chiec sports complex.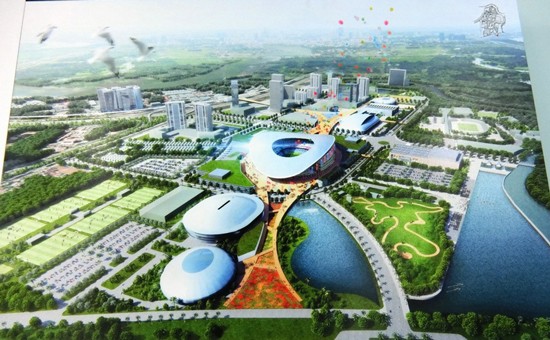 The scale-1/2000 zoning plan for the Rach Chiec sports complex of Nikken Sekkei Company


The construction covers over 180 hectares of land with total investment capital of VND 34,000 billion, aiming to serve sport and culture activities of the city and the country, contributing to boost the city's economic, society and culture development .
According to Vice director of HCMC Culture and Sport Department Nguyen Hung, it can be called the two-decade project because it has been launched since 1994 but just approved until now.  
The complex will be one of the city's upcoming investment projects, creating the best conditions for Ho Chi Minh City in hosting the big regional and international sport events. 
In September, the Ho Chi Minh City People's Committee approved to give the Thai Son Nam Sports Joint Stock Company to be investor of the Rach Chiec Sports Complex.
The Committee asked the departments of Culture and Sport, Architecture and Planning, Finance and Nikkei Sekkei Company continue completing related documents to report the city's leader in June, 2017.
The construction is designed indoor competition houses of futsal, basketball, volleyball, and hostel for athletes and coaches as well.
Nikken Sekkei Company of Japan, who has won a contest for seeking the best designer for the scale-1/2000 zoning plan for the Rach Chiec sports complex, becomes the main constructor of the project