Ho Chi Minh City's budget revenue reached VND98.57 trillion (US$4.42 billion) in the first four months this year, a year on year increase of 4.5 percent, reported the Department of Finance at a meeting on April 28.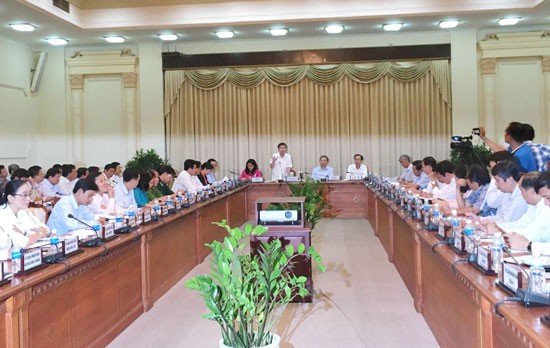 A view of the meeting (Photo: SGGP)
Of these, domestic revenue hiked 16 percent, crude oil reduced 43 percent and export-import dropped 4 percent, it said.
 
Businesses' production and trading recovery has positively impacted the city's budget revenue especially domestic source, the department added.
 
According to reports by the city People's Committee at the meeting, the total retailed revenue of goods and services reached VND231 trillion (US$10,365 million) in the first four months this year, up 11 percent over a year back. Consumer price index increased 0.68 percent.
 
Industrial production was estimated to hike 6.2 percent with the most growth rate from beverage industry which up nearly 15 percent, clothing 11 percent, nonmetallic mineral products 18.3 percent, and electronic items-computers-optical products 10 percent.
 
Export import turnover hit US$9.7 billion, up 5 percent over the same period last year. Excluding crude oil, it was up 12.4 percent to US$8.9 billion.
 
Director of the Department of Industry and Trade Pham Thanh Kien reported that HCMC is stockpiling 64,000 tons of rice to ensure no price and output fluctuations amid unusual weather changes.
 
The reserve volume in the neighboring province of Long An is 600,000 tons so the province can supply the city market if necessary.
 
In addition, the department has proposed the Ministry of Industry and Trade to reduce export rice output to supply domestic market amid the severer drought and salt intrusion.