Vietnamese President Truong Tan Sang and National Assembly deputies in Ho Chi Minh City on Nov. 28 met with voters in District 1 and at the Ho Chi Minh City Law University to report on the results of the 13th NA's second session.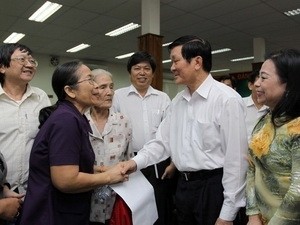 President Truong Tan Sang (2nd, R) meet with voters in HCM City's District 1 (Photo: Vietnam News Agency)
At the meeting, many voters frankly pointed out shortcomings in the operations of the NA, as well as in State management and lawmaking activities, especially the poor quality of transport works, excessive traffic accidents, slow administrative reforms, increasing environmental pollution and more complex corruption.
They also suggested the NA consider carefully the building of nuclear power plants and conduct comprehensive inspections on the Dong Nai 6 and 6A hydropower projects.
Concurring with the voters, President Sang said that lawmaking quality has yet to meet requirements, with laws lacking decrees guiding implementation.
On the issue of nuclear power plants, the State leader affirmed that the NA would carefully consider these projects, to both meet national energy demand and ensure safety while implementing the projects, with a view to turning Vietnam into an industrialized country in 2020.
Many voters at the HCM City Law University also expressed their wish to contribute ideas to amendments to the 1992 Constitution.