On occasion of Mid-Autumn Festival on September 28, Saigon Giai Phong Newspaper, the Red Cross, Bac Ai Charity and Truong Phat Company joined in to donate 100 gifts to needy, disabled and child victims of Agent Orange in Cu Chi District of Ho Chi Minh City.
This is an annual program organized by SGGP Newspaper along with sponsors to donate gifts such as lanterns and moon cakes to handicapped children. Earlier, the Red Cross Society in Cu Chi District also donated 470 gifts to poor children.
From September 25 to 29, the HCMC Fatherland Front Committee sent delegations to visit and present Mid-Autumn Festival gifts to 1,500 children in 15 wards of the City, with each gift worth about VND100,000 such as moon cakes, lanterns and candles.
On the occasion, 50 children whose parents were injured in the collapse of Can Tho Bridge on September 26, 2007, received Mid-Autumn gifts from Trade Unions in My Hoa, Binh Minh Districts and Vinh Long Province.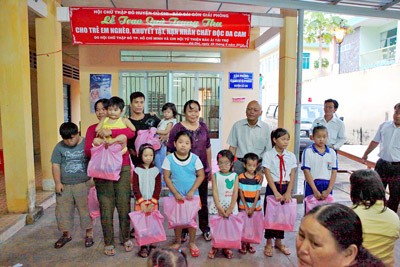 Cap: Representatives of SGGP present gifts to poor children in Cu Chi District in HCMC on occasion of Mid-Autumn Festival (Photo: Tran Thanh)
Kinh Do bakery coordinated with relevant agencies and charitable organizations to visit and present more than 5,000 gifts worth VND300 million to children living in orphanages, open houses, hospitals in Ho Chi Minh City and other provinces.
Kinh Do also organized street activities in the central area along Hang Dao, Hang Ma, Hang Ngang, Hang Duong in Hanoi.
FrieslandCampina company also donated more than 2,000 large barrels of Dutch Lady milk and coordinated with local authorities and mass organizations, social organizations to visit and present gifts to children in communes in remote areas, vocational training centers for disabled children, shelters, SOS villages and orphanages in Binh Duong, Long An, Ben Tre, Tien Giang, Binh Thuan Provinces and Da Nang and Ho Chi Minh City.
On this occasion, State President Truong Tan Sang sent a letter to Vietnamese children wishing them a merry and joyful Mid-Autumn Festival.
In his letter, the president extended his warmest greetings to all Vietnamese children living inside and outside Vietnam as well as foreign children residing in the country.
He told the children that the Party and Government as well as their parents and all of society have always wanted the best for them and hoped that they achieve outstanding success, both in academics and in physical training.
"I want you to become good nieces and nephews of Uncle Ho and useful citizens of society. May your dreams become a reality," said President Sang.
He wished them to be on par with their friends in all five continents as the late President Ho Chi Minh wished when he was alive.
President Truong Tan Sang was full of praise for their achievements in both studies and life, particularly those living in remote regions.