Ho Chi Minh City Vice Chairman Nguyen Huu Tin on Saturday asked Traffic police to fine drunks at restaurant doors just right after they want to drive motorbikes or cars.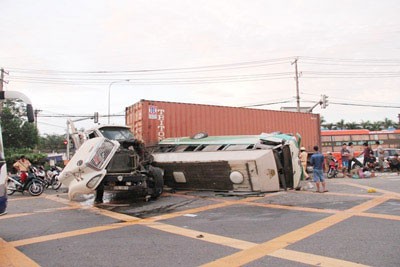 The file photo shows a road traffic accident.
The vice chairman said that the police should prevent drunks from driving because the more they drink, the more likely thay are to have an accident.
The vice chairman also asked the police to harshly punish those who make speeding and line encroachment drive overloaded trucks.
A report issued by the city's Traffic Safety Mission said that traffic accidents decreased in the city in the first three months, however, proportions of death from road traffic accidents increased.
Most accidental deaths were caused by drunk drivers and most drunk drivers caused fatal crashes in the city.
There were 1,160 traffic accidents in the city in the first three months, decreasing by 393 cases in comparison with the same period last year. But the accidents caused 180 dead, increasing by 35 for last year, and 1.006 injured.
From 2003, as a result of the successful implementation of the Government's Resolution No. 13, fatalities and serious injuries have decreased noticeably, especially for the number of serious injuries.
This Resolution was initiated to improve traffic safety through education, awareness campaigns, driving tests, vehicle examination, monitoring and enforcement of traffic laws and improvement of black spots.
The Government's mandatory helmet law has been strictly implemented since December 15, 2007.
However, road traffic accidents are the major problem of the country so far.