The Management Board for Investment and Construction of the Thu Thiem new urban recently asked HCM City's People's Committee to stop renting land and revoke the investment license of TA Association Vietnam Limited.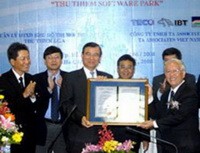 HCMC chairman Le Hoang Quan (R) hands the investment license to chairman of Teco Group and chairman of TA Association Vietnam Co.Ltd on June 16, 2008.
It is more than 12 months since a software park license was awarded to the company, which has yet to pay any rent and has profited from the accrued interest due to it late payments. 
The management broad petitioned the city's People's Committee stop the company renting land and for the project to not be delayed.
According to the project's licensing rules, after 12 months from being awarded the investment license, if the investor has not implemented the project the management can revoke its license.
TA Associates Vietnam Limited, a 20:80 joint venture between Saigon Telecommunication and Technologies Corp. and Singapore's TA Associates International, Pte, Ltd (TECO), was awarded the US$1.2billion license to develop a software park development in Thu Thiem new urban area on June 11, 2008.
Thu Thiem Software Park would be built on nearly 16 hectares of land along the East-West Highway in the new urban town, which is opposite the city's current commercial district.
The company organized a ground-breaking ceremony on July 19, 2008. However, since then TECO has often petitioned the management board to allow it to not adhere to all the license's regulations.
The city's People's Committee established a task group to review the issues at the beginning of the year.
The group demanded the company stick to the agreement, but the company and TECO still persisted in their petitions, while also trying to add unreasonable articles to the license.
According to the Thu Thiem board, the company has tried to extend the deadline for implementing the project and has yet to carry out any work. 
The plan is expected to develop seven 20-story buildings with a total floor space of some 500,000 square meters for hi-tech, software, insurance companies, banks and other services.
A commercial area will cover nearly 100,000 square meters and a residential area of 65,000 square meters.
In addition to offices for lease, there will be a training center, commercial retail spaces and business accommodation inside the park. The training center will provide skilled labor for tenants.