Phu Tho Indoor Sports Stadium in Ho Chi Minh City, supposedly one of the best sports stadiums in Southeast Asia, is now more frequently being used for fairs, performances and exhibitions rather than for sporting events.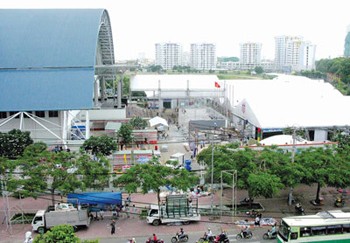 More fairs and exhibitions than sporting events are held in Phu Tho Indoor Sports Stadium (Photo: SGGP)
The center has become an ideal destination for fairs, exhibitions and performances for the last five years, including major events like Vietbuild Expo 2011, Vietnamese High Quality Products fair and International Tourist Festival.
Not just major events but also a slew of other programs from large to small scale wedding fairs, promotional goods fairs and year-end discount fairs to sell goods, also use the stadium as venue.
Normally a national-level event occupies the stadium space for at least 20 days while smaller events take the space for 10-15 days. Thus, the stadium is let out for fairs and exhibition events for 4-6 months a year.
The stadium does need to rent out its space to meet its overheads as it runs autonomously and has no support from the State budget.
The 23 hectare Phu Tho Indoor Sports Stadium was built to serve SEA Games 22 which took place in 2003. The center has a multi-functional center which is said to be the most modern in Southeast Asia.
When it opened, the stadium complex was expected to boost sports in HCMC. At that time, there was only one city-level sports center, the Phan Dinh Phung Indoor Sports Stadium.
However, due to high maintenance costs, it has become difficult to manage and operate the number 1 sports stadium of the city.
Since SEA Game 22, a maximum of only three sporting events have been organized in the stadium complex, mainly football events.
Table-tennis, volleyball and badminton competitions have taken place in the Phan Dinh Phung Center because Phu Tho is far too big and more expensive for hosting events. Phu Tho center on the other hand is an ideal size with economically prized budgets and centrally located.