Phu Huu Seaport in Ho Chi Minh City was built two years back but as yet not been made fully operational as the only access road leading to the port is run down, full of potholes and overgrown weeds.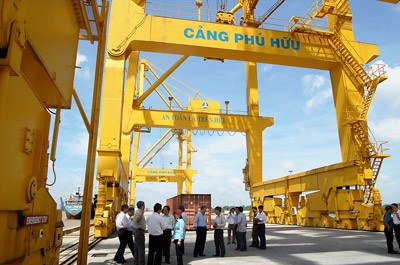 Phu Huu Port is ready but cannot function without an access road (Photo: SGGP)
Nguyen Trong Cuu, director general of the Ben Nghe Port Company, investor of Phu Huu Port, said that the first phase of the port has been completed at a cost of VND327 billion(US$15.7 million). The Port can now receive 30,000DWT vessels with cargo capacity of three million tons a year.
Since 2010, the 24 hectare Phu Huu Port has been recognized as an international seaport by the Vietnam Maritime Administration under the Ministry of Transport and was opened for use at the end of July of the same year.
However, the port today lies deserted as there is no access road leading to it. The warehouse, quay, freight yard and cargo are all out in the open, under direct sun.
The port investor has to spend VND40 billion ($1.92 million) a year for port maintenance.
HCMC authorities have signed a BOT (Build-Operate-Transfer) contract with Ha Tien 1 Cement Company to build a 2.6km road linking Phu Huu Port to Nguyen Duy Trinh Street.
However the task has been stuck with 14 households adamantly refusing to evacuate and hand over the land site.
Even after the access road is complete, the very narrow Nguyen Duy Trinh Street will face traffic congestion, as it is located between densely populated residential areas on both sides.
Broadening Nguyen Duy Trinh Street will require another VND860 billion ($41.31 million) including site clearance costs.
Nguyen Van Lam, deputy head of the Economy and Budget Committee of the HCMC People's Council, said that investing in Phu Huu Port will be ineffective unless synchronized with other traffic projects.