On behafl of the Politburo, Mr. Pham Minh Chinh who is the head of the Commission for Organizing and Personnel of the Communist Party of Vietnam affirmed that the Politburo has carefully, objectively and comprehensively considered the decision to appoint Mr. Quang to the new post to meet the demand of HCMC's political mission and the requirements of the Party's Central Executive Committee for the short and long term.

Mr. Quang is a methodically trained young cadre growing up from grassroots and going through many positions in Tay Ninh, said Mr. Chinh.
With his ability, brainpower, experience and political bravery together with the help by HCMC authorities and residents, I believed that Mr. Quang will inherit achievements and experience from previous generations to well fulfill his new mission, Mr. Chinh added .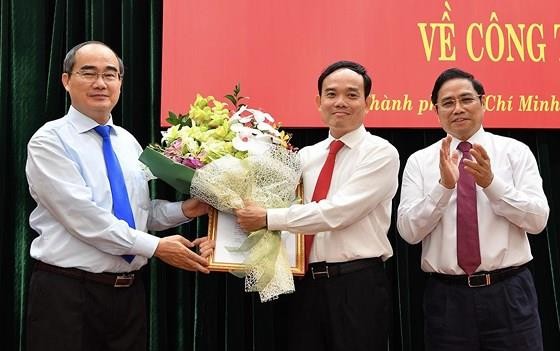 Secretary of HCMC Party Committee Nguyen Thien Nhan (L) gives flowers to congratulate the new standing deputy secretary (Photo: SGGP)

Secretary of HCMC Party Committee Nguyen Thien Nhan believed that Mr. Quang will actively join hand in the implementation of missions set up by the city's Party Committee committee in the 2015-2020 Resolution.
With the tradition of unity, self-motivation and creativeness, the committee welcomes and shares with Mr. Quang, said Mr. Nguyen Thien Nhan.
He hoped Mr. Quang to contribute to the city development and fulfill missions assigned by the Party and the State.
Stating at the ceremony, the new standing deputy secretary thanked the Politburo for assigning him to the new position and the Standing Committee of HCMC Party Committee for trusting in and supporting him.
He expressed worry about his shortcomings while the work volume in HCMC is very heavy and wide and some things seem very difficult to him. However he committed to making efforts to complete the assigned tasks.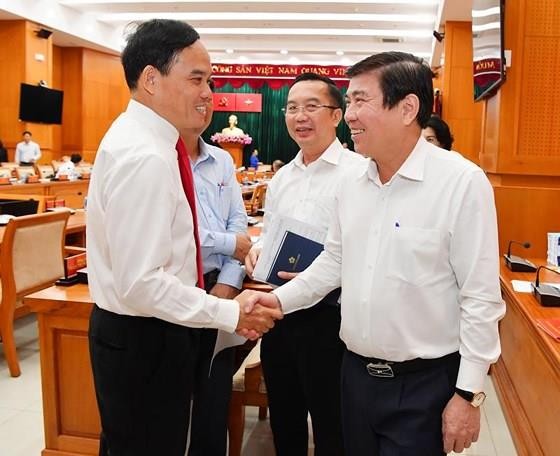 Chairman of HCMC People's Committee Nguyen Thanh Phong (R) congratulates Mr. Tran Luu Quang (Photo: SGGP)