There exists a paradox in the labor market in Ho Chi Minh City where many people are unemployed while enterprises cannot find the right workers to employ.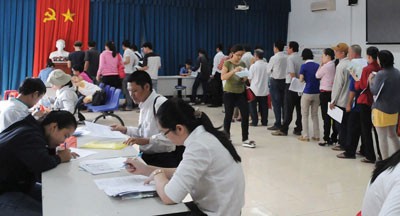 Unemployed people queue at a job exchange floor (Photo: SGGP)
The unemployment rate in Ho Chi Minh City in 2012 was 4.9 percent. Around 139,400 people registered for unemployment insurance in 2012, an increase of 34 percent against 2011. But in April 2013, only about 14,000 laborers registered for the above insurance yet only few were able to get new jobs.
The unemployment rate dropped from 5.1 percent in 2010 to 5 percent in 2011 and 4.9 percent in 2012. Some people said the unemployment rate is low because people accept ad hoc jobs.
Le Van Thanh from the City Development Research Institute said in reality the unemployment rate is higher because the City has not calculated the immigrant workers. Every year, the City receives 40,000 migrants; some of them for work in industrial zones and the rest accept any kind of job provided to support their families.
On May 6, two Job Exchange Floors were organized with demand for more than 3,000 employees. By now, as many as 995 people have already been employed after passing their interview tests conducted by various businesses at two floors. The number is equal to one third of demand and one fourth of unemployment rate.
One old but still hot issue is of the shortage of highly skilled workers and the abundance of engineers. The quality of laborers does not meet with the demand of enterprises, especially from the high tech labor market.  One more thing is that employees and employers can not agree on remunerations and working conditions.
Economists are confused at the increasing number of employment. According to the Department of Labor, Invalids and Social Affairs, in 2012, around 26,425 enterprises reported hiring 825,982 laborers, an increase of 261,000, but in fact the hired laborers replaced workers who had quit their job.