The annual meeting to greet overseas Vietnamese will be held on January 21, according to Mr.Tran Hoa Phuong, Vice director of the Ho Chi Minh city State Committee for Overseas Vietnamese.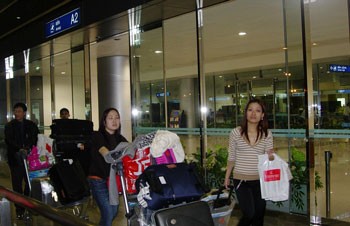 More overseas Vietnamese flock to city for Tet holiday. (Photo: KK)
Around 700 overseas businesses, experts and intellectuals will gather at the event to celebrate the Lunar New Year - Tet.
As plan, at the meeting, the local authorities will inform to overseas Vietnamese the city's achivements in 2013, and award individuals and organizations for contributing to social and economic development of the country.
Besides, the city's authorities will also offer Tet gifts, free treatment and medicine for over 500 poor overseas Vietnamese in Laos and Laotian people.
As the year ends, the amount of overseas national currency exchange transferred to Ho Chi Minh City from other countries through banking systems reached US44.8 billion, accounting for 50 percent of the country's total overseas national currency exchange of US$11 billion.
The amount of overseas national currency exchange transferred to HCMC hit US$4.1 billion in 2012.