Many opinions related to economic development, human resources training, and people's life improvement were raised at a meeting held September 9 by the Ho Chi Minh Party Committee.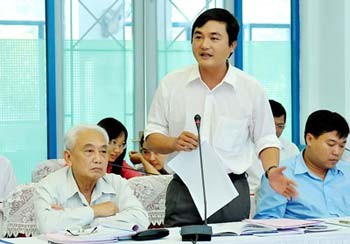 Deputy secretary of the Ho Chi Minh Communist Youth Union of HCMC, Bui Ta Hoang Vu, speaks at the Sep 9 meeting held by the HCMC Party Committee to collect comments for the political report of the ninth HCMC Party Congress (Photo: SGGP)
At the meeting, which was aimed at collecting comments for the political report of the ninth HCM City Party Congress, most delegates attributed the city's achievements in recent years to the city Party Committee's sound leadership.
 
They suggested the Committee's political report should more focus on cadres' training, appraisal, and employment to ensure that the use of cadres is based on required qualification standards.
 
Solutions to re-arrangement of the city's workforce should be more elaborated in the report, since this issue is of great significance to the country's industrialization and modernization, many delegates said.
 
Most of the delegates agreed to the six key programs initiated in the report, including the program for strengthening human resource training to contribute to the city's development.
 
Some delegates said that in the past several years, the training quality has failed to meet the city's needs of development and the labor structure has yet to be organized reasonably, leading to a situation in which qualified workers are not sufficient while unskilled workers are redundant.
 
The city should develop the vocational school system and renovate training programs to improve training quality, they added.
 
Many delegates said that the city's economic development strategies must meet both goals of boosting sustainable growth and strengthening environmental protection.
 
Regarding measures to improve the people's life, most delegates said the report should pay more attention to the planning of resettlement areas for people subject to relocation. Relocated residents must be accommodated by new residential areas that satisfy their demands for infrastructure, services, trade, education and employment, they said.
 
Measures to improve mass organizations' activities must be included in the report, some delegates said. They warned that the bureaucratic style of work and the "disease" of running after accomplishments at some mass organizations have undermined the public's confidence.
 
Many delegates also suggested the report should specify the role of local Party Committees. They asked that members of local Party Committees must empathy with the people's aspiration so that they can improve their service for the public's benefit.