The Ho Chi Minh City Department of Information and Communications has ordered online game businesses to pause providing their services to all public internet shops from 10pm to 8am on following day.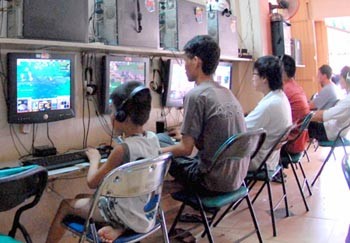 Young people play online games at an internet shop in HCMC (Photo: SGGP)
In a request sent Thursday to online game companies and internet service providers, the department also instructed online game runners stop selling their games to those shops, that is located below 200 meters far from primary, secondary as well as high schools.
All internet service providers have to inform online game companies their internet protocol (IP) addresses and report the department by September 18.
Meanwhile, the department will ask game providers to move internet shops  far enough from schools.
Related articles:
City acts to crack down on online gaming
City suggests Gov't ban importation of online games