Suspecting that a customer had stolen goods, security guards of the Metro Hiep Phu Supermarket in Ho Chi Minh City's District 12 searched the suspect, which offended the woman.
Nguyen Thi Kim Dinh on May 20 continued sending letters to press agencies, saying that the guards behaved impolitely and taken uncivilized actions.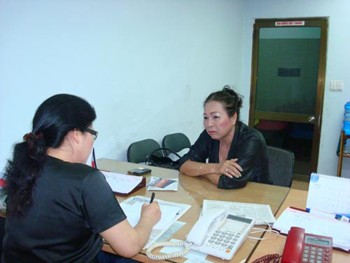 Nguyen Thi Kim Dinh (R) makes her case to a Nguoi Lao Dong Newspaper reporter in HCM City May 19 (Photo: Nguoi Lao Dong)
Although she became annoyed by the boorish words of the security guard, who jerked up his chin and told her let him to scrutinize her as if she were guilty, Ms.Dinh complied, emptying her trouser pockets out to "present" him.
Next, guards asked her to enter a dressing room for further examinations. The woman replied that she would only submit to the extensive search if the supermarket leaders graced the interrogation.
However, four of the guards ignored her understandable request and attempted to take her away by force.
One of them grabbed her collar and pulled, making her shirt came out.
Dinh said she was so furious that she removed her trousers herself, casting them to the side in anger.
The guards then brutishly took her to a room; when she resisted them with her hands, a security used his walkie-talkie to beat on her head. Finally, she ended up locked in the room.
Since the incident took place, she has yet to receive any explanation from the Metro Hiep Phu leaders.
Tran Van Doan, chief police officer of Tan Thoi Hiep Ward, said that they were collecting statements from the group of security guards on Thursday afternoon.
However, just four out of the eight security guards, who were present, showed up at the police office, Mr. Doan said.
Ms. Dinh said that she was having her wounds assessed and planned to have lawyers to sue the supermarket security guards.