Ho Chi Minh City has made great strides in urban development over the past 35 years since it was liberated in 1975. However, many challenges still lie ahead for the bustling municipality.

City makeover
Since 1975, the former Saigon has nearly doubled in size with the re-arrangement of several districts and the establishment of many new ones, such as Binh Tan, Tan Phu, and districts 7, 9 and 12.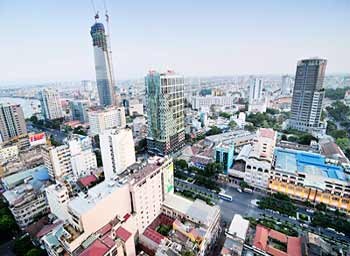 A view of the city with several new skyscrapers. However, experts say that some have not been built in harmony with the overall landscape of HCMC. (Photo: SGGP)
District 4 has also seen dramatic changes over the last several decades. Once known for being a rough neighborhood, nowadays, Khanh Hoi and Nguyen Tat Thanh streets are home to clean, well-maintained residential quarters and public facilities. Effective urban development policies are attributed to the change.
The Nhieu Loc-Thi Nghe Canal area has also had a makeover. Before 1975, the area was one of the largest slums in Saigon. But today, the area is being upgraded thanks in part to a World Bank loan of US$200 million. The canal is set to be equipped with a water supply and drainage system while the surrounding environment has also been improved.
A former part of the city's Nha Be District, District 7 has meanwhile been transformed into the Phu My Hung new urban area. It is now the dream of many residents to live in this modernized district. The economic potential of the area is robust, as city authorities have decided to build a large-scale, deep-sea port here.
In central city districts like 1, 3 and 5, numerous multi-storey buildings have increasingly emerged. Some oppose the new aesthetics while others say the skyscrapers give the city a more modern look.

Since the 1990s, HCMC has invested in widening four major city gateways and many inner city routes to ease the increasingly congested traffic.

Most notably among them is the East-West highway, which has created a horizontal traffic corridor throughout the city along with Phu My Bridge, Thu Thiem Bridge, and an overpass that connects Nguyen Van Linh Street with the Hanoi Highway.

Tran Quang Phuong, director of the city's Department of Transport, said the new bridges will help HCMC expand to the East, contributing to the development of the Thu Thiem new urban area.
Challenges ahead

However, along with its many achievements, HCMC still faces several problems in terms of infrastructure, environmental pollution, and floods.

According to the city's Traffic Safety Board, the number of traffic jams in 2009 increased by 50 percent from the previous year. Experts blamed the situation mainly on the many roadworks having been carried out across the city to improve water infrastructure.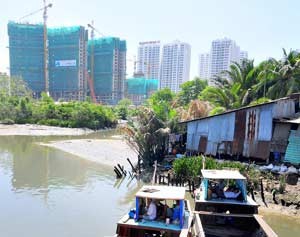 High-rises are increasingly being built in the city to replace slums (Photo: SGGP)
Another cause for the gridlocks is the fast-growing number of vehicles, with around 100 new cars and 1,300 new motorbikes added to the city traffic each day. Meanwhile, the surface area of local roadways has yet to expand in proportion to the increasing vehicles, while some streets have been illegally turned into markets and parking lots.

HCMC's road surface area accounts for just 2 percent of the city's total area, equivalent to only one tenth of the need for streamlined traffic.

The city also continues to be plagued by floodwaters.

Ten years ago, the city announced a "war" on flooding and almost every year since, the Department of Transport planned to tackle 10-20 areas prone to inundation. Today, however, there are still around 100 areas in several districts that are vulnerable to floods.

According to experts, floods have increased due in part to global climate change and poor water drainage infrastructure in the city.

In some suburban districts, the building of houses in areas that do not meet technical infrastructure requirements have made the city's anti-flooding program less effective, experts said, blaming it on previous improper housing development polices.
City authorities have adopted a new policy on building "social houses" to provide homes for the poor and low-income earners, but experts say it will be some time before the situation improves.

Another big problem in HCMC is pollution, which has become alarmingly worse over recent years with no end in sight. Many households discharge rubbish into city canals, while numerous factories release untreated wastewater directly into the environment.

Recent studies by the city's Sub-department of Environmental Protection show that harmful substances including coliform bacteria in HCMC canals are now far above safe limits. In the Saigon River, coliform content has been measured at more than 15 times the safe level.
Currently, around 50 percent of household garbage is treated by foreign-invested enterprises; and 50 percent of the city's clean water is provided by Build-Operate-Transfer (BOT) investments.

Noise and dust pollution are also a headache for large municipalities like HCMC, caused mainly by the growing number of vehicles, experts have said.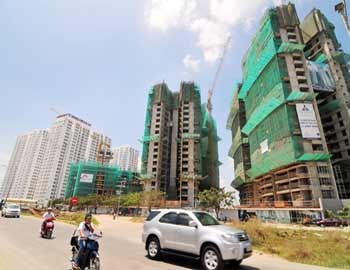 Many new urban areas have emerged in HCMC over the past several years, contributing to the success of the city's urban development planning (Photo: SGGP)
In addition, construction of buildings needs to be re-considered, as many high-rises have not been built in harmony with the overall landscape of the city, experts said. HCMC should issue regulations on structural standards for construction projects in the city, they added.

More tenacity needed

In carrying out the East-West Highway Project, HCMC has relocated nearly 10,000 households, of which half were located in slum areas along Tau Hu-Ben Nghe Canal. The project has now entered its final phase of development.

The city is also developing a project to upgrade the Doi-Te canal, and another one related to environmental improvement of the Tham Luong-Ben Cat-Nuoc Len canal.

The planning and development of these projects, and the removal of slums on the Nhieu Loc-Thi Nghe canal, are the result of good city leadership and strong political determination to change HCMC for the better, said economic expert Dr. Tran Du Lich.

Other major projects such as the Thu Thiem Bridge and tunnel, Phu My Bridge, Hiep Phuoc deep-sea port, and Soai Rap River dredging also reflect HCMC's intent to develop into a more modern, safe and civilized municipality.

To address shortcomings in urban developing planning, in 2005 the HCMC Party Committee passed a resolution to restrict development in the inner city while boosting the building of houses for the poor and those with low incomes.

Many experts welcomed the policy, but five years have passed and the city has yet to fulfill its promises.

Therefore, HCMC, should look to the urban development of other big cities around the world, and should map out proper solutions to successfully develop existing and future projects.

Accomplishing this requires much higher political determination by the city's leaders, Dr. Lich said.