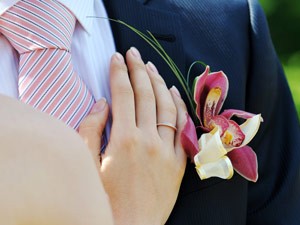 A couple in their wedding ceremony (file photo)
The New World Hotel Saigon's annual wedding fair is set for June 26 - 27, featuring new trends and exhibitor's latest collections, according to the organizers.
Over 30 companies offering wedding dress collections, wedding flowers, fine jewelry, photographer services and more will exhibit their newest collections in the venue of the five-star hotel, said New World Saigon marketing and communications manager Sabine Lendvai.
She added a "How to plan a perfect wedding" workshop will be held during the fair, in addition to other workshops on bridal make-up, hairstyle and some other topics.
Ho Thao Ly, senior manager of events at the hotel, said last year more than 3,000 guests visited the exhibition. "Looking at the list of exhibitors this year, the event promises to attract even more visitors during the two show days."
The wedding fair will also feature a fashion show showcasing such trends as Innocent Age, Aqua, Black and White, and Oriental Wedding outfits for both bride and groom.
The admission to the wedding fair is free but its fashion show requires tickets, which are already available at the hotel for US$25++ or VND475.000++ per person.
The hotel held the annual event for the first time in 2008.