A pilot project to better the operation of the Ho Chi Minh City authorities has been built, towards facilitating the city to fully tap its potential and resources to promote its socio-economic development in the future.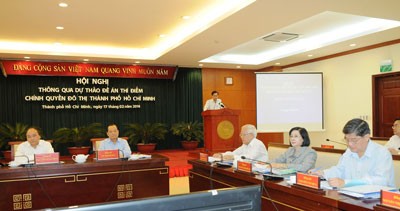 Delegates discussed at the meeting (Photo: Sggp)

The contents of the project were discussed at a meeting in the city on February 17, co-chaired by Deputy Prime Minister Nguyen Xuan Phuc and the municipal Party Committee Secretary Le Thanh Hai.
This is the last official meeting to give opinions on the project, which is scheduled to be presented to the Political Bureau by the Government on March 13 before submitting to the National Assembly for approval.
Deputy Minister Phuc asked participants to seriously contribute their ideas to perfecting the project.
At the meeting, Chairman of the municipal People's Committee Le Hoang Quan spoke of the achievements reaped by the city in its socio-economic and cultural development in recent time.
He said cities across the country meet great issues, which inhibit them from optimising their potential and resources to promote their development.
It is necessary to research and build appropriate urban authority models to meet the demands of development, thus fostering administrative reform in the country, he added.