The Ho Chi Minh City People's Committee has issued new regulations on urban traffic order and safety as a measure to decrease the number of traffic accidents and congestion in the city. Most of the regulations will take effect next month.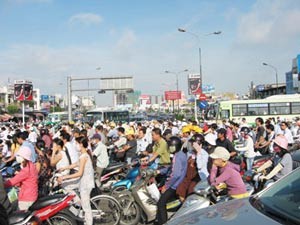 A traffic jam in the city

Accordingly, from September 15, persons operating or sitting on two-wheeled motorbikes, three-wheeled motorbikes or mopeds must wear crash helmets when riding on highways.

From December 15, they must wear crash helmets on land roads prescribed for compulsory crash helmets. Civil servants must wear crash helmets on all land roads in the city at the beginning of next month.

Individuals and organizations that violate traffic laws will be administratively sanctioned, disciplined or examined for penal liability in accordance with the law.

Those driving with more passengers than permitted, driving against the flow of traffic, driving on closed roads, ignoring red lights, or ignoring traffic police officers' orders will have their vehicles taken into custody for 30 days.

Those driving underage or without a license will have their vehicle taken into custody for 90 days.

Those who have had their licenses revoked must attend a course on Land Road Traffic Laws and retake the licensing exam to get their license back.

According to the Department of Traffic and Public Works, from January 1, 2008, vehicles with expired usage durations but which are still in operation will incur penalties.

Also, drug addicts and those who have caused serious traffic accidents will have their licenses revoked.

The Department will give a close inspection of drivers' examination centers and their license granting procedures. Those showing signs of violation will be audited or suspended.

Local People's Committees must finish land clearance work on encroached traffic safety corridors by March 3, 2009.