On the morning of September 17, the Ho Chi Minh City Department of Transport launched a new bus service for District 1 in Ho Chi Minh City- -bus number 35.
This is a subsidized bus service that will pass through the City Center covering administrative offices, schools and commercial centers. In all, the route will cover a distance of 11.35 kms.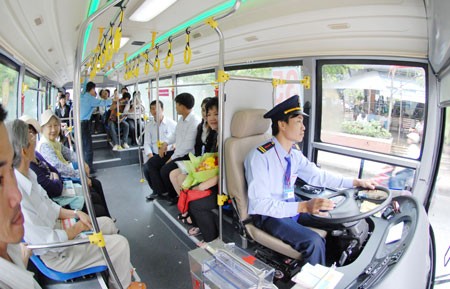 Cap: The new bus service has comfortable seating and courteous staff (Photo: Kim Ngan SGGP)
In the first leg of the route the bus service will cover the September 23 Park-Ton That Tung-Bui Thi Xuan-Cong Quynh-Nguyen Thi Minh Khai-Tran Hung Dao-Nguyen Van Cu-Ho Hao Hon-Co Bac-Nguyen Thai Hoc-Vo Van Kiet Boulevard-Le Thi Hong Gam-Ky Con-Ham Nghi-Nguyen Cong Tru-Pasteur-Saigon Bus Station-Le Loi-Pasteur-Ly Tu Trong-Hai Ba Trung-Nguyen Du-Paris Commune Square-Le Duan-Dinh Tien Hoang-Nguyen Thi Minh Khai-Phung Khac Khoan-Dien Bien Phu-Nguyen Binh Khiem-Nguyen Dinh Chieu-Hoang Sa Bus Station.
In its second leg it will cover the Hoang Sa Bus Station-Nguyen Dinh Chieu Street-Hai Ba Trung-Nguyen Thi Minh Khai-Dinh Tien Hoang-Le Duan-the Paris Commune Square-Dong Khoi-Le Loi-Saigon Bus Terminal- Ham Nghi -Nam Ky Khoi Nghia-Nguyen Cong Tru-Ky Con-Pham Ngu Lao-Nguyen Thai Hoc-Co Bac-Ho Hao Hon-Tran Hung Dao-Nguyen Van Cu-Pham Viet Chanh-Bui Thi Xuan-Ton That Tung - Pham Ngu Lao-September 23 Park.
The daily bus service will start at 6am, and the last service will wind up at 8pm. Tickets will be priced at VND4,000 for normal passengers, while multiple trip tickets, and monthly tickets will be accepted.
On its debut trip, passengers will be offered free bus tickets for two days, on September 17 and 18.