Holidaymakers crowded bus and railway stations in Ho Chi Minh City on Friday afternoon to buy tickets to leave the City for the long holiday weekend, but this year the crowds were not as huge as last year and as a result there was no overloading on routes out of the City.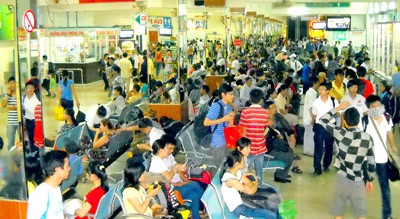 Passengers waiting to buy tickets at Mien Dong Bus Station on August 31 (Photo: SGGP)
This year National Day falls on a Sunday, hence Monday has been given as a compensation day off, making for a long three day holiday break.
From Friday afternoon, tens of thousands of people flocked to bus and railway stations to buy tickets to go to their hometowns or travel to tourist destinations for a three-day holiday.
Since there was less of a crowd this year as compared to last year, passengers were not so inconvenienced and overloading on buses and trains did not occur. 
At Mien Dong Bus Station, all passengers were quickly able to buy tickets and depart by the evening. Most of them travelled on short routes from HCMC to the central province of Quang Ngai.
Similar situation was seen in Mien Tay Bus Station where passengers easily bought tickets to return to their hometowns or go on a holiday trip.
The routes that were the most in demand out of Ho Chi Minh City were to provinces like Tien Giang, Ben Tre, Tra Vinh, Dong Thap, An Giang, Kien Giang, Ca Mau and to Can Tho City.
On the other hand, several people were seen waiting for their trains at the Saigon Railway Station, most of who were travelling to destinations between HCMC and Da Nang City.