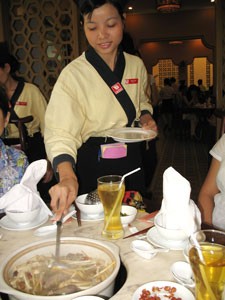 File photo shows a waitress making a Vietnamese hot pot at a restaurant in Ho Chi Minh City. Hot pot is a popular dish in Vietnam. (Photo: Tuong Thuy)
The Vietnam Young Chefs Cup 2011, the first-ever of its kind, will take place in Ho Chi Minh City July 20-22 to select winners to represent the country at international competitions held later by the World Association of Chefs Societies (WASC), the Vietnam organizers said.
HCM City-based company Unilever Food Solutions Vietnam and magazine Mon Ngon Viet Nam (Vietnamese Delicacies) co-organize the competition, which will see 50 chefs competing.
The competitors have been selected from more than 100 chefs coming from hotels, restaurants, and chef clubs nationwide, said Mr. Vo Quoc, editor-in-chief of the magazine.
He said the competition would select the best 10 for the forthcoming international contests held by WASC. Therefore, it will go under WASC standards, he added.
An award ceremony will be held at the five-star hotel Rex in downtown on July 22.
The winners will then spend more time working with professional chefs in the city to improve their skills before the international competitions. They will receive career certificates from the Saigon Professional Chefs Association, which is a member of the World Association of Chefs Societies.