The People's Committee in Ho Chi Minh City January 9 announced enrolment plan of sixth and tenth graders for the academic year 2014-2015.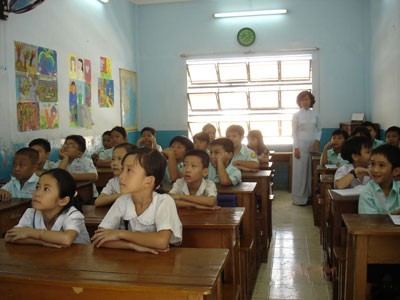 HCMC leaders want children of poor families and top welfare brackets to pursue education (Photo: Kim Chi)
As per the plan, the number of student enrolment into the first, sixth and tenth grades is 292,531 including 119,614 first graders, 110,935 sixth graders and 61,982 tenth graders.

Municipal leaders asked to ensure enough seats for all students, especially for children of families who served in the nation's revolution, poor families and top social welfare brackets. 
The city asked district administrators to build schools which are international-standards in order for Vietnamese students can keep up with their counterparts in the world.

City leaders also encouraged schools to teach science subjects in foreign languages to help raise students' integration with their friends across the world.

Enrolment procedure for first grade will start on July 1, and admission decision will be announced on July 31. For sixth grade, it begins on June 16 and admission result will be on July 15.

Ninth graders will take literature and mathematics examinations and third unknown subject which will be announced on May 11. Ninth graders will sit an examination on June 21 and 22.

Students will have three choices into public schools yet they have to think twice before making decision into a school as it is impossible to alter after that. Enrolment jury board will select students on their qualifying score which will be total marks of literature, mathematics and the indecisive third subject.