A delegation of leaders from 20 Japanese enterprises of the Kansai Economic Union recently wrapped up a three-day business trip in Ho Chi Minh City. The visit was aimed at seeking future opportunities in the city for Japanese investors.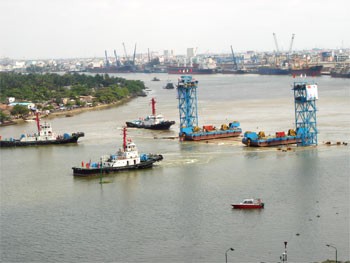 The under-construction Thu Thiem Tunnel, a project with Japanese investment, is expected to help relieve traffic jams in HCMC. (Photo: Uyen Phuong )
Led by Obayashi Corporation's Chairman Takeo Obayashi, the delegation consisted of several Japanese chairmen, managers, consultants and senior supervisors from a variety of fields including construction, banking, electronics and telecommunications.  
During the trip, they visited and held conferences with lecturers and leaders of the HCMC University of Economy, Nong Lam University, and the HCMC Institute for Development Studies.  
During the meetings, topics were discussed including urban development projects, city objectives, and current and future investment trends. 
Delegates also met Wednesday with HCMC People's Committee Chairman Le Hoang Quan. During the visit, Japanese representatives expressed their satisfaction with their trip to HCMC and were pleased with the business potential offered by the city.  
Addressing the meeting, Mr. Quan emphasized that HCMC is planning to shift its current industry into high gear with more sectors and businesses using and requiring high technology.  
City leaders will also focus on upgrading and training more human resources in the near future, he added.     
Mr. Quan said he highly appreciated projects that have been invested in and carried out by Japanese companies, especially the outstanding work of Obayashi Corporation in the East-West Highway project.  
The Thu Thiem Tunnel section of this project will eventually comprise four sections located under the Saigon River connecting the city center near Khanh Hoi Bridge to District 2's Thu Thiem area. This is expected to reduce city traffic jams, he added.  
Mr. Quan concluded by saying that HCMC officials will strive to support Japanese enterprises and their business activities in the city.