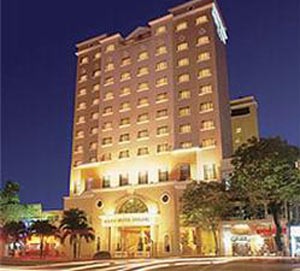 Duxton Hotel, one of the luxury four star hotels in Ho Chi Minh City.
The Ho Chi Minh City Department of Tourism is asking for more incentives to foster investment in new four and five-star hotels in the city and ease the chronic shortage of up-market rooms.
Of the 171 hotels in Ho Chi Minh City, only 38 are rated three-star or higher, says the department in a formal proposal to the HCMC People's Committee.
Their combined 6,400 rooms accommodated one million people a year, whereas the number of international visitors to the southern city has surged from two million in 2005 to nearly 2.4 million in 2006.
The scarcity of rooms is not only happening in the three and four-star categories. The city's five-star hotels are booked out pretty well all the time, and many would-be guests find they cannot reserve a room at the top end of the market.
Also in its proposal, the department is seeking permission to extend the opening hours of bars, restaurants, dance clubs and other entertainment venues, again for the benefit of foreigners.