Deputy Secretary of Ho Chi Minh City Party Committee Le Hoang Quan has recently signed a document asking Party organizations to frequently hold meetings and talks with people; thus, the authorities can listen to people and find solutions to their concerns and aspirations.
Simultaneously, sectors and agencies should have plans to improve their work performance and encourage office workers, students and young people to participate in social activities of their locality.
Petitions of voters must be dealt with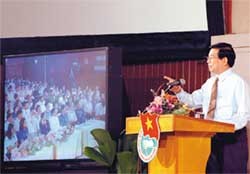 Secretary of HCMC Party Committee Nguyen Minh Triet talked to young people

Vice Chairman of Ho Chi Minh City People's Committee Nguyen Thien Nhan has also sent an urgent memo tasking leaders of the city-based sectors and agencies with resolving 143 petitions of voters from HCMC National Assembly delegation.
In terms of land planning, voters said that the compensation prices between state-run projects and private-run ones are still unequal. The residents relocated in state-run projects received only a small amount of money; thus, they asked city authorities to reconsider compensation policies.
Voters of District 2 also want city leaders to explain why people involved in the construction project of Thu Thiem New Urban Area have not yet got their land. Simultaneously, they asked to be made clear of the decision of not compensating 4.5 meters of the building restriction line in the project of widening Ha Noi Highway's two-way road. The city should speed up the progress of constructing Vinh Loc A residential area (110 hectares), invested by District 5 House Construction and Development Company, approved by the government from 1998.
Residents of Block 5, Tan Thuan Ward, District 7 asked city authorities to speed up the progress of clearing Ben Nghe Port; if relocation can not be carried out soon, water supply and drainage system should be installed to supply clean water to inhabitants and avoid pollution. The city should support poor households to have tap water.
Voters of Tan Binh District requested that the city complete the construction of two dykes along Nhieu Loc Canal and the treatment of waste water in this canal. The city should focus on identifying the cause of muddy domestic water and severely punish Tan Binh Chemical Factory and Tuong An Oil Factory for polluting the environment.