Ho Chi Minh City has striven to dredge and clean up canals to ease rampant flooding and improve the city's environment. Meantime, many other canals especially in suburban districts have been filled up to build houses and local paths.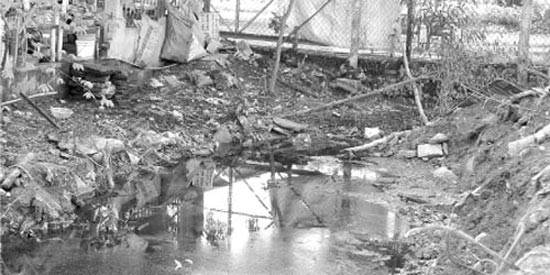 A section of Trung Uong Canal has been filled up to build a path leading to a house (Photo: SGGP)
Dr. Ho Long Phi, director of the Water and Climate Change Center of the HCMC National University, said that urbanization has deleted hundreds of canals in HCMC, especially in Districts 7, Binh Tan, Hoc Mon and Binh Chanh.
HCMC has made the great efforts to seek funds for projects to revive black and smelly canals including Nhieu Loc-Thi Nghe, Tan Hoa-Lo Gom, Tau Hu-Ben Nghe, Ben Cat-Tham Luong and Ba Bo for the last several years.
Meantime, many suburban canals have gradually disappeared.
Tens of sections of Trung Uong Canal in Hoc Mon and Binh Chanh districts have been filled up to build paths or even houses.
Mr. Nguyen Van Tam from Xuan Thoi Thuong Commune, Hoc Mon told every household contributed 15 workdays to start digging the canal in 1977, thousands of people were found working on the construction site a day sometimes to complete the work three years later.
The canal supplied irrigation water to rice and vegetable crops and drained away floodwaters in rainy season until 1986, when capital shortage began to make it abandoned.
People have flocked to the canal's area to buy land and build houses overloading traffic infrastructure for the past many years, told Mr. Nguyen Cong Duc from Vinh Loc A Commune, Binh Chanh.
The canal has been neutralized while drainage system has almost not been built there causing floodwaters overflow streets and houses whenever it rains.
The issue is an evidence for local lax management, resulting in the city's payment of expensive prices to revive the canals.
Recently, HCMC has approved a project to clean up Hang Bang Canal in Districts 5 and 6 that has been stagnant with garbage and encroached for house construction.
Up to 128 households District 5 and 940 in District 6 will be cleared alongside the canal with the total cost of trillions of dong.
Mr. Ho Long Phi said that if the city was affordable to clean up all of these canals and connect them up to rivers, it will be an effective way to drain floodwaters and reduce flooding and pollution.