Another campaign launched in Ho Chi Minh City early July to encourage the public to commute by bus, to help reduce traffic congestion, met with lukewarm response from people as similar campaigns earlier failed completely.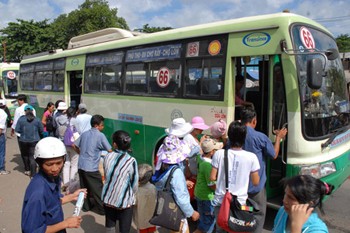 Many students commute by bus in HCMC (Photo: SGGP)
This is the third campaign of its kinds in the city. In the two previous campaigns, thousands of flyers and maps were distributed to residents, departments and schools. The city also asked officials and civil servants to commute by bus at least once a week.
Many meetings to highlight the campaigns were held by the city People's Council. However, all efforts failed to arouse the public and the number of bus commuters did not increase as expected.
Many officials in the transport industry are doubtful if this third campaign will succeed.

Change in approach
According to the transport department, by mid August this year, 21 CNG (compressed natural gas) powered buses will begin operations.
Duong Hong Thanh, deputy director of the department said 21 buses of Saigon Passenger Transport Company will run on the most crowded routes including Ben Thanh – Cho Lon route.
The Ho Chi Minh City Bus Cooperative has also submitted a project, awaiting approval from city authorities, to equip 29 CNG powered buses. These buses are expected to serve passengers by the end of the year.
At present, CNG filling stations for the above buses have been built at Cho Lon bus station and on Pho Quang Street in Tan Binh District. The oil and gas industry plans to build more similar stations once the city equips more buses with CNG.
The Bus Cooperative has spent VND20-30 million to upgrade each bus. This process is scheduled for completion by late August, according to Phung Dang Hai, director of the bus cooperative.
Additionally, Hai proposes that the city have roads exclusively for buses only. For instance, Hanoi Highway has 4-5 lanes for one-way travel and one of the lanes should be reserved for buses, to encourage more students to commute by bus to universities in Thu Duc District in suburban HCMC.
At present, about 30,000 students commute by bus on this route daily. A bus lane will facilitate bus travel, which may double as most commuters don't want to travel by motorcycle on this route which is full of truck traffic, said Hai.
The city People's Committee on its part has instructed district authorities to release enough land to build bus stations.
Truong Quang Phuong, director of the Department of Transport says that with current high fuel prices, commuting by bus will be much more economical not only for individuals but also for the city.

According to the department, HCMC has 500,000 cars and 4.5 million motorcycles.

On an average of 70 percent vehicles operating per day, a car consumes about five liters of gasoline and a motorcycle consumes one liter, the total fuel cost thus is VND104 billion (US$4.9 million) a day.

If about one million city residents commute by bus, not their own vehicles every day, the city will save at least VND21 billion (US$1 million) exclusive of parking fees, which is roughly VND2,000-10,000 per motorcycle and VND10,000-10,000 per car.
Related articles:
HCMC encourages commuting by bus
HCMC encourages bus commuting