The Ho Chi Minh City-based Tho Nam Sang Company on Saturday broke ground for an apartment project in District 12 on the outskirts of the city.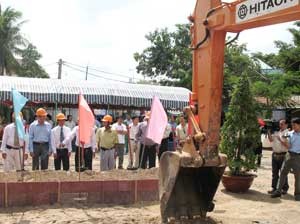 Tho Nam Sang Company breaks ground for its apartment project. (Photo: Khanh Van)
The project, to be developed at the total cost of VND202 billion (more than US$12.62 million), will cover more than two hectares on Truong Chinh Street.
Construction of the 14-level building with 232 apartments is planned for completion by February 2010. The construction and trading company will sell all the apartments, and many buyers have registered to purchase the houses.
The buyers and local officials also attended the groundbreaking ceremony.
The apartment building is designed to house about 1,000 residents.
Truong Chinh Street is part of the Ho Chi Minh City section of the Trans-Asia route linking Viet Nam with Cambodia and Thailand.