Secretary of the Ho Chi Minh City Party Committee Dinh La Thang on April 24 visited Thanh An, a remote island in Ho Chi Minh City's Can Gio District.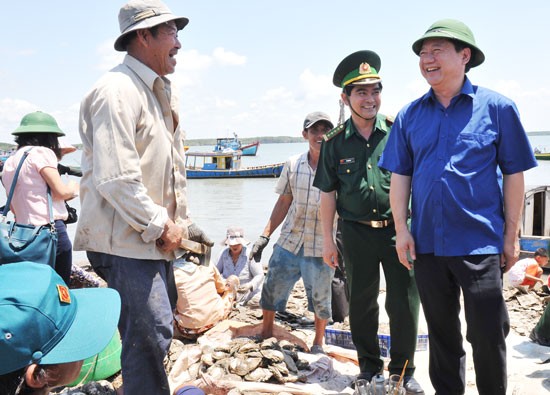 Secretary of the Ho Chi Minh City Party Committee Dinh La Thang (R) talks with local people in Thanh An commune. (Photo: Sggp)
The secretary sent his greeting to residents and had a talk with local people on various fields.

The municipal government has paid higher interest to Thanh An, a remote and poor area of the city, and has made more effort to support the area to develop its strong points, he said.

After being reported that no high school in the island, he asked HCMC People's Committee Deputy Chairman Le Van Khoa, relevant departments and local authorities to open 10-12 grade classes for the 2016-2017 school year before building a high school in the commune.

Most of local people have earned living from fishing, salt production and swallow bird breeding with low income.

Secretary Dinh La Thang asked the district's authorities to focus on water tourism and eco-tourism as well as promoting Can Gio Mangrove Biosphere Reserve which was awarded UNESCO recognition in 2010 and calling for tourism investment.

He has steered departments and the district's government to provide a large loan to poor people instead of some tens of million VND.

On the occasion, the secretary offered 50 gifts to disadvantaged households, visited Rung Sac Martyr Cemetery, and attended the inauguration of a new bus route in Can Gio.

Thanh An, covering 131km2 of mainly mangrove forests, is the only island commune located about 70 km from Ho Chi Minh City. The commune consists of three hamlets, Thanh Hoa, Thanh Binh and Thieng Lieng with about 5,000 residents.