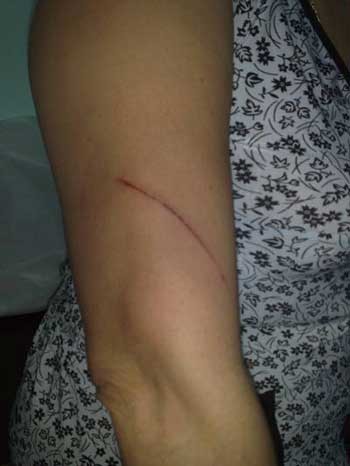 Ms. Dinh displays scratches she alleges were inflicted by supermarket security guards (Photo: Nguoi Lao Dong)
Nguyen Thi Kim Dinh's attorney sent director of Metro Hiep Phu Supermarket a letter on May 26, asking for a public apology to Ms.Dinh before May 31, as well as compensation for her physical injuries and insulted honor caused by the supermarket security guards.
Ms. Dinh's attorney, Bui Quang Nghiem of Nghiem&Chinh Law Partnership Company, suggested the supermarket repair technological glitches in the security examination system, which failed, leading security guards to misbelieve Ms.Dinh had stolen property.
Mr. Nghiem said that the supermarket should accept Ms. Dinh's demands to prevent legal procedures neither side wants to experience.
Metro should reconsider the behavior of its security guards to minimize dishonoring other people, he added.

Related article:
Offended customer reacts to Metro supermarket security guards' behavior