Ho Chi Minh City – based Saigon Agriculture Inc. (SagriI) on August 9 started construction of the cattle slaughterhouse in Cu Chi District, with capacity to kill 250 cattle per hour.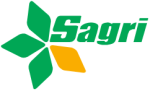 Logo of Saigon Agriculture Inc. (Sagri)
The 9-hectare factory will be designed to meet food hygiene and safety standards, with an A level water treatment system, which will help limit the illegal slaughter cases in Ho Chi Minh City.
The project's investment capital is estimated to exceed VNDD308 billion (US$15.4 million).
With a total area of over 81 hectares, Sagri will also slaughter other livestock such as poultry, and will eventually include a food-processing factory in the near future.
Construction of the factory is expected to finish during the first quarter of 2012, with a capacity to butcher 2,000 cattle per day.