A severe landslide across 200 square meters early on Friday swept two houses into the Muong Chuoi River in Nhon Duc Commune of Nha Be District in Ho Chi Minh City.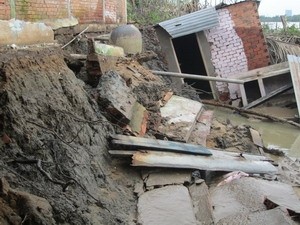 Devastation caused by the landslide in Nha Be District of HCMC on August 31 (Photo: VNA)
According to local residents, the landslide occurred at 1am when they were sleeping. They were awakened by a loud crackling sound coming from houses located at the river's edge. In a matter of minutes, more than 200 square meters of land owned by a local man named Ho Van Sau slid into the river along with two houses.
The site of the landslide is likely to broaden further, threatening more nearby houses.
Authorities in Nhon Duc Commune have asked households located near the landslide to move out to safer locations. Electricity supply has been shut off to ensure safety for local residents.
Early in July, a landslide also pulled down four rental rooms, just 30 meters from the above landslide spot.
In related news, the HCMC People's Committee on Friday instructed the Steering Center for Urban Flood Control Program to work with related departments to do away with at least 10 flood spots within the inner City limits by 2013.
Besides they should also concentrate on clearing flood spots along Phan An, An Duong Vuong, Highway 1A, Thai Phien, Nguyen Thi Thap, Bui Huu Nghia and Le Duc Tho before December 31 this year and ensure that flooding will not re-occur in these places.
Relevant authorities should instruct contractors to speed up execution progress on all drainage projects.