Problems are arising from the equitization of some State-owned enterprises in Ho Chi Minh City, hurting the State's assets and shareholders, experts said.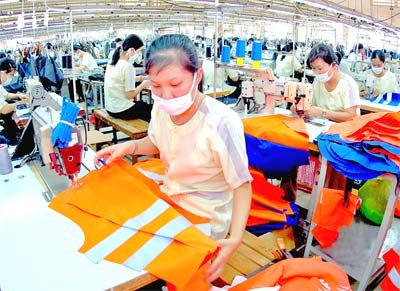 Workers make clothes at a factory of Phong Phu Corporation, a well-run equitized enterprise in Ho Chi Minh City (Photo: SGGP)
Many enterprises have been assessed for equitization, the privatization of State-owned companies, at very low prices but after going public they suddenly become extremely valuable.
 
Often, firms' shareholders are directorate members or their friends who collude to devalue the enterprises before they are equitized.
 
The Saigon Jute Company, for instance, was headquartered on a 2,200-square-meter area in District 1 and had a 24,000-square-meter plant in District 4, but it was assessed for equitization at only VND16 billion (US$889,000).
 
After equitization, the company's operations came to a standstill as its shareholders scrambled for management of the facilities, worth trillions of dong immediately following equitization.
 
Recently, many large State-owned firms have been equitized, with final auction prices almost always higher than starting prices.
 
This indicates that the State's assets haven't been assessed accurately, especially in terms of the value of space, brand name or market share.
 
Dr. Tran Du Lich, a member of the National Assembly's Economic Committee, said so far there are only specific regulations on assessing the value of visible assets but not invisible ones like brand names, industrial designs and inventions.  
 
Directors of many equitized enterprises also continue to manage the firms in the same manner as when they belonged to the State, making investment and business decisions by themselves without feedback from shareholders. This has caused losses for many enterprises.
 
At some firms, members of the management board who own controlling shares have issued stocks and raised chartered capital arbitrarily without discussing matters with the shareholder council, leading to the depreciation of founders' stocks and the rate of capital contribution by shareholders.
 
Hoang Thi Vui, deputy head of the city's Enterprise Finance Department, said many equitized enterprises have set up salary funds improperly and thus, salaries which should be associated with revenue, are not.
 
Regulations need adjustment
 
Dr. Tran Du Lich said many equitized enterprises have used the State's land and facilities, which they have rented at preferential prices, for inappropriate purposes by re-leasing or transferring them to their creditors.
 
Relevant agencies should introduce sanctions and land should be rented fairly according to market prices via auction, he said.
 
Nguyen Thi Ngoc Nga, deputy head of the Ho Chi Minh City Inspection Department, said the Government and Finance Ministry should consider incorporating the value of a firm's geographical location into its value before equitization, and adjust the rent in line with market prices to prevent enterprises from re-leasing it.
 
The Finance, and Natural Resources and Environment ministries should issue specific instructions on land use so it is clear to equitized enterprises what their rights are according to the Law on Enterprises, she said.
 
In addition, when equitized enterprises own a large area of land and facilities, the ministries should issue regulations on space in favor of the State controlling shares, Ms. Nga added.
 
An expert on conditions of anonymity said the Government should force enterprises to be listed on bourses when implementing equitization.
 
To do this, the expert said, agencies that approve equitization plans should regulate the minimum as well as maximum numbers of shares to be sold to the public so that after equitization, enterprises can be listed on the bourse according to the Law on Securities. 
 
Nguyen Trung Tin, vice chairman of the HCMC People's Committee, said the Government should allow employees to buy shares at a preferential price equal to 60 percent of the starting price at auction instead of 60 percent of the final price at present, to encourage company loyalty amongst them.
 
The Government should also allow enterprises' labor unions to buy shares at a price equal to 60 percent of the starting price and raise the rate of shares which they can hold to 5 percent. At this rate, they can join the management board and take part in managing the equitized enterprises, he added.
Related article:
Equitization brings vitality to business, experts say