Figures from the HCMC Department of Planning and Investment (DPI) show the city authority has granted permits for 138 foreign-invested property investments. Some of them are worth up to billions of US dollars.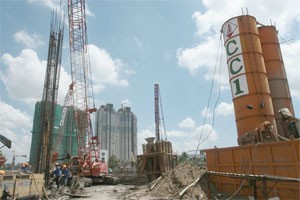 Many foreign-invested real estate projects have not been carried out in HCMC although investors have received investment permit for many years (Photo: Minh Tri)
Yet many projects have not been carried out although investors have received investment permit for many years, according to the statistics.
Malaysian conglomerate Berjaya Land Berhad received the license in 2008 to develop an international university township in HCMC at a cost of $3.5 billion.
The Vietnam International University Township (VIUT) will be located on a 900-hectare site in Tan Thoi Nhi Commune in Hoc Mon District, around 19 kilometers from the downtown area.
VIUT is expected to be an integrated township comprising four main themes – work, knowledge, lifestyle and leisure.
Besides an international university campus, it will also have a town center with office buildings, commercial blocks, hotels and convention facilities and civic and administrative zones.
Berjaya said VIUT would have additional facilities, like a river port, entertainment parks and sports arenas.
A range of waterfront and riverfront housing is also planned to be built. The township is expected to be ready in 10 years and accommodate 75,000 residents.
However, the construction of the project has been conducted at snail pace.
In 2008, Berjaya Leisure (Cayman) Company, a subsidiary of the Malaysian group, was approved to begin construction of the Vietnam Financial Center with total investment of $930 million in District 10 in the first quarter of 2010.
Berjaya Leisure was expected to start the work on an area of 25.4 hectares, which include three 48-storey high-class apartment blocks of five-star hotel, office for rent, and trade center.
However, the project is still on the drawing board.
Many foreign investors have earlier applied for HCMC's license to conduct investment projects, which were among the preferential categories. They have then asked to switch their investment projects to different categories.
A Singapore-based builder has been granted permit to carry out a construction project on a large park worth $310 million in Binh Chanh District.
At the outset, the park was expected to include an amusement park and rent offices and space. However, the contractors then sought the city's approval to build shopping mall as the profit margin from the amusement park was too low.
The project is 10 years late than the expected deadline.
Experts say poor supervision on foreign-invested property projects, which increase on many preferential policies, is the main cause of the issue.
The projects also worsens the country's balance of international payment as they do not contribute much to the country's foreign currency earnings, while getting paid in dollars.
Many foreign investors even sell the approved projects to other, planning and investment deputy minister Dang Huy Dong says, adding it is time to strictly supervise foreign-invested property projects.