Tens of thousands of passengers yesterday flocked to Mien Dong and Mien Tay coach stations and Cat Lai ferry, Ho Chi Minh City returning to their hometowns and travelling to tourist destinations near the city on the Hung Kings anniversary, the tenth day of the third lunar month.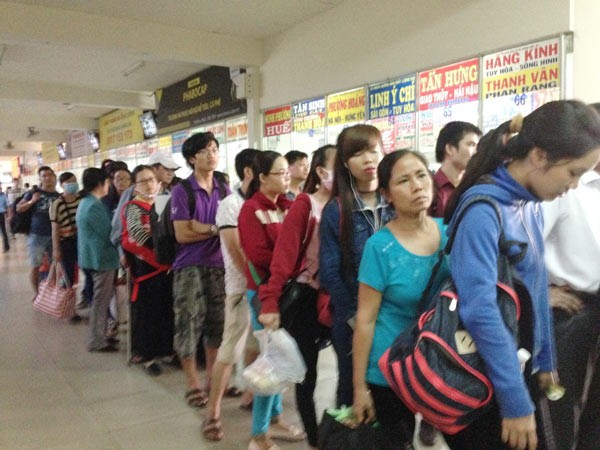 Passengers queue up to buy tickets at Mien Dong coach station on April 16 (Photo: SGGP)
The holiday lasts three days this year because the anniversary fell on Saturday allowing workers to have Monday off in compensation.
Since early morning streets near Mien Dong coach station such as Xo Viet Nghe Tinh, Highway 13 and Dinh Bo Linh were congested with thousands of people streaming to the area. The station's deputy director Thuong Thanh Hai said that they served about 31,000 passengers mainly to the Central Highlands and the south central region.
Passengers could get tickets more easily at Mien Tay station reporting that the number of passengers increased 50 percent over normal to hit 40,000.
Deputy director of Cat Lai Ferry Nguyen Thanh Tuan said they supplemented 80 ferries totaling 240 to serve 57,000 passengers yesterday.
Tourist companies in HCMC reported an increase of 20-30 percent over normal in the number of tourists booking short tours. 50-60 percent of these have traveled domestically with many households moving to Con Dao and Phu Quoc islands to avoid the ongoing heat wave.