Several bridges in Ho Chi Minh City built decades ago have now downgraded and weakened but still continue to bear the burden of daily heavy vehicular traffic.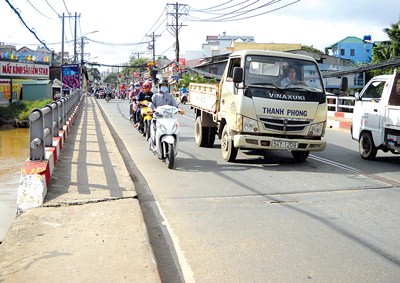 The run down Giong Ong To Bridge on Nguyen Thi Dinh Street in District 2 continues to bear heavy vehicular traffic everyday (Photo: SGGP)
Son Bridge in Xo Viet Nghe Tinh Street in Binh Thanh District was built in 1975 and is now in no state to bear the weight of thousands of heavy vehicles everyday.
Similarly, Kieu Bridge on Phan Dinh Phung Street in Phu Nhuan District and Giong Ong To Bridge on Nguyen Thi Dinh Street in District 2 are both in a dilapidated and weakened condition.
Several cracks and depressions have been seen on Kieu Bridge since late 2011.
Pillars of the Ba Hom Bridge on Road 10 in Binh Tan District are now cracked and a serious threat to passer-bys.
Rach Dia, Long Kieng, Rach Tom and Rach Doi Bridges on Le Van Luong Street in Nha Be District were built before 1975, but still have 1-2 ton trucks plying on them each day. Every time a heavy truck crosses the bridge, other vehicular traffic has to wait at the end of the narrow bridge before passing through.
The clearance under the bridges is also too low for large boats to maneuver on the waterway.
According to the Department of Transport the City now has 1,031 bridges, of which the department manages 374 bridges while district people's committees are in charge of the remaining.
The Department of Transport has done thorough inspections of 36 old bridges in the City and has proposed to the People's Committee to repair, upgrade or rebuild them at a total cost of VND6 trillion (US$286 million).
The City has so far approved rebuilding of the Bong, Kieu and Le Van Sy Bridges at a cost of VND200 billion ($9.5 million).
In order to safeguard and stop overloading on these old bridges, the department has coordinated with traffic police and other relevant units to regularly patrol the bridges and penalize offenders.