A sudden heavy downpour on October 9 inundated several streets in Ho Chi Minh City such as Hoa Binh, Tan Hoa and Dang Nguyen Can in District 11, resulting in severe traffic gridlock.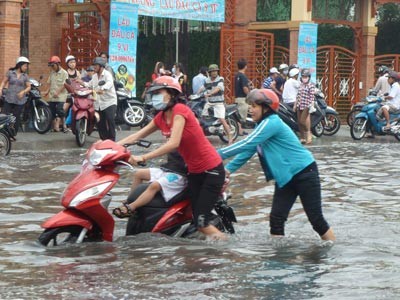 (Photo: SGGP)
Heavy rain combined with high tide submerged houses along Hoa Binh Street near Dam Sen Park.
Residents placed sand bags, logs of wood in front of their houses to prevent black water from flowing in.

Although rain stopped in ten minutes, water still rose more than one meter.
Automobiles went past creating waves and splashing motorbike drivers who fell down on the flooded streets.
Flooding caused many vehicles to break down, resulting in traffic congestion.

Drivers chose to divert on the non-flooded streets like Lac Long Quan, Au Co, Cong Hoa, Truong Chinh, Khuong Viet, and Tran Binh Trong. This led to a mess in traffic along these streets, with heavy traffic jams lasting until 10pm.