Heavy rainfall started from 5pm on late afternoon September 15 and caused severe flooding in many parts of Ho Chi Minh City, bringing traffic to a near standstill along several streets.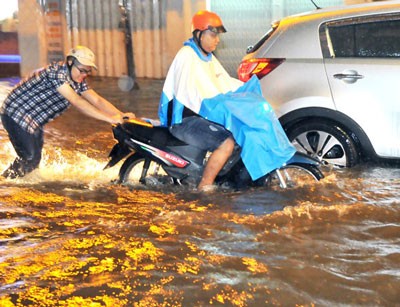 Tran Hung Dao Street is inundated when heavy rain falls (Photo: SGGP)
With streets inundated in up to half meter of flood water, many motorbikes and cars broke down on streets. Worst, Kinh Duong Vuong Street in District 6 is flooded for several days.
Residents living along the street had to use sand sacks and thick wooden pieces to prevent the dark, dirty water from flowing into their houses but it failed.
Employees of the Urban Drainage Company deployed high-powered pumpers to help reduce flooding yet the condition is not improved at all.

Other streets such as Hong Bang, Chau Van Liem in District 5; Hoang Dieu in District 4; To Hieu, Nguyen Son, Truong Vinh Ky in Tan Phu District; Nguyen Huu Canh in Binh Thanh District; Kha Van Can in Thu Duc District were also submerged under immense floodwater.
Vehicles could not move at all due to depth in flooding in these streets and many of them even cars broke down. Till 8pm, flood water receded and people still splashed in the water to go home.

Bad traffic jams occurred on streets including Thanh Thai in District 10; Truong Chinh, Ly Thuong Kiet, Cong Hoa in Tan Binh District; Hoang Van Thu in Phu Nhuan District and Nguyen Van Qua in District 12; at the crossroad Cach Mang Thang 8- Nguyen Thi Minh Khai- Nguyen Van Cu- Tran Hung Dao- Nguyen Trai with thousand vehicles queuing into a long line.

Streets D1, Dinh Bo Linh, Nguyen Huu Canh, and Bach Dang were inundated with flood water that measured up to nearly 1 meter. To avoid inundated streets, vehicles flocked to Dien Bien Phu street; consequently there has been a worse traffic gridlock in Dien Bien Phu street starting from Roundabout Nguyen Binh Khiem to Sai Gon Bridge.
A 5 kilometer long line of cars were queuing from Rach Chiec Bridge in district 2 to Dien Bien Phu Bridge in District 2.

Also the yesterday heavy rain inundated many streets in Bien Hoa Town of the southern province of Dong Nai. The flood water was measured up to 60 cm in the national highway 51 and No.1 causing the bad traffic. The central reservation was even broken.