Ho Chi Minh City authorities have abolished plans to acquire land for the Binh Quoi-Thanh Da urban project, but many residents in Binh Thanh District's Ward 28 have yet to receive certificates entitling them to land-use rights.
Under Decision 614 by the city People's Committee, local residents in the area are entitled to full land-use rights. As such, they can sell, donate, or mortgage their land or property in accordance with current regulations.
However, residents in quarters 20, 21, 22 and 23 said that ward authorities had refused to grant them land-use certificates, claiming that their land was part of a new 18.4-hectare relocation plan.
After being refused the certificates, many locals asked the ward authorities to show them the decision on land acquisition and the plan for relocation, but they were denied, said resident Tong Van Do.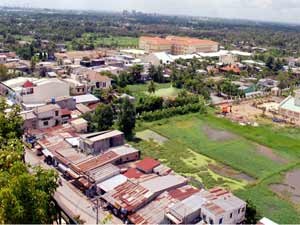 A view of the Binh-Quoi-Thanh Da area in HCMC's Binh Thanh District
(Photo: SGGP)
"They should not be able to suspend the certification while they have not presented any decisions on land acquisition or the relocation plan," he complained.
Tran Thi Thu Ha, chairwoman of the Binh Thanh District People's Committee, said: "Under Decision 614, the city authorities asked the Department of Natural Resources, Department of Construction, and district authorities to make preparations for an area of 18.4 hectares to build a resettlement area.
"While waiting for a specific demarcation of the area, district authorities have asked ward authorities to advise residents, whose land or houses are located in the area without legal documentation, to defer their application for certification."
According to the district's construction plan, Ward 28 has been selected for development into the Binh Quoi-Thanh Da urban area, she added.  
Following Decision 614, the price of homes and land in the Binh Quoi-Thanh Da area has seen a sharp spike.
These days, houses in the area are selling for VND20-25 million (US$1,050-1,315) per square meter for street-front homes and VND12-16 million for houses located in lanes.
These prices are up to three times higher now than they were earlier. 
Previously, the selling price for street-front houses without legal papers was around VND8 million per square meter, while homes in lanes without legal papers were priced at VND2-5 million per square meter.