Ho Chi Minh City leaders gave away the HCM Youth Union's Young Citizen Awards to five winners at a function held January 1.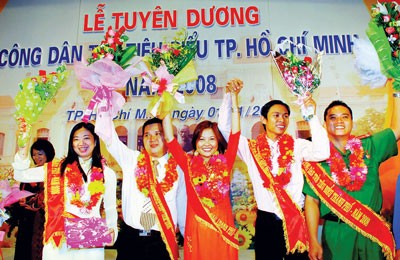 Winners of the 2008 Young Citizen Award (Photo: SGGP)
The winners were Tran Tuan Anh, Nguyen Thi Hoai Nam, Nguyen Ngoc Minh Thao, Tran Mai Thuy Hong, and Le Thanh Tam, who were chosen from among 91 nominees for their contributions to the community.
Tran Tuan Anh, a teacher, makes civics lessons interesting by using pictures. Tran Mai Thuy Hong, a former judoka, trains disabled people in the martial arts. Le Thanh Tam, a young policeman, was feted for apprehending drug traffickers in Binh Thanh District. 

Nguyen Thi Hoai Nam was the first Vietnamese woman to conquer Mt Everest. Nguyen Ngoc Minh Thao received the award for his efforts to improve the safety and productivity of electricity.
Speaking at the awards ceremony at the Youth Culture House in District 1, People's Council chairwoman Pham Phuong Thao said the winners displayed determination to overcome challenges in life.
 
Also attending the meeting were Vo Van Thuong, first secretary of the Youth Union, Party Committee standing deputy secretary Nguyen Van Dua, and officials from various city agencies.
It was for the third year that the awards were given away to outstanding citizens.

Related article:
Five people receive Young Citizen 2008 prizes