Ho Chi Minh City People's Committee will submit a project proposal to the Government on Monday to maintain the usual office timings but make marginal changes in school timings.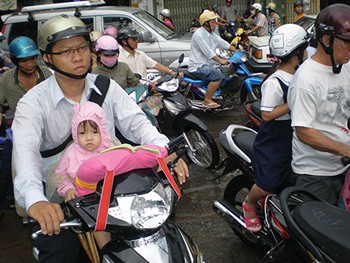 Most parents prefer to drive their children to school and go to office at the same time (Photo: laodong)
Earlier the city authorities had discussed with districts and relevant departments who had agreed to maintain the same office timings but make slight changes in school timings.

According to the people's committee, change of office and school timings is but a small measure to help reduce traffic congestion in the city.
The above suggestion was proposed by the city way back in 2003 and submitted to the People's Council four years later, but could not be implemented due to differences in opinion.

However, the city People's Committee implemented a pilot plan to reduce the number of vehicles travelling simultaneously.

Several schools have changed their timings to create a 15-30 minute difference between primary, secondary and high school timings since 2007.
Industrial and export processing zones have increased buses to pick up and drop workers and rearranged work timings of worker groups to prevent simultaneous traffic congestion.

Parents in Vietnam usually drive their children to school by private transport; hence change in school and office timings can not bring much change to traffic congestion.

The city People's Committee has thus proposed to the Government to let it maintain present office timings, until further research and study is done to focus on necessary and effective measures.
HCMC only wants a few changes made to afternoon school timings of primary schools and to both morning and afternoon timings of secondary schools. The suggested new timing would be 15 minutes later from the current morning and evening hours.
Primary schools would then begin at 1:15pm and end at 4:45pm and secondary schools would begin at 7:15am and end at 11:30am and 1:15pm and 5:15pm.