According to reports by the Department of Construction, Ho Chi Minh City now has over 20,000 houses alongside and on canals, the city plans to clear half of these in the next five years under its urban planning program. However many households have refused to remove and relocate in newly built apartment blocks.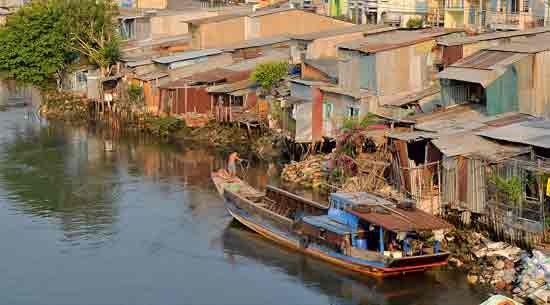 HCMC plans to remove about 10,000 houses from canal areas to reduce pollution and improve urban landscape (Photo: SGGP)
In the next five years, HCMC will concentrate on removing about 10,000 households from five main canals including Tau Hu-Ben Nghe, Doi-Te, Tan Hoa-Lo Gom, Nhieu Loc-Thi Nghe, Tham Luong-Ben Cat and Nuoc Len.
 
The Construction Department said that number of houses built alongside or on canals might exceed 20,000 because there has no survey data on 67 canals, where safety corridor landmarks have not been set up.
 
District 8 has the highest number of households living alongside and on canals totaling 12,369. Local authorities have removed thousands for implementation of urban planning projects, improvement of canal water environment and construction of Vo Van Kiet-Mai Chi Tho Street.
 
About 9,503 houses have still located at Tau Hu-Lo Gom and Doi canals. Most of these have been built illegal, low-roofed, unsettled and patchy. They have no private galvanometers and lavatories, household wastewater has been discharging directly into canals worsening pollution and flooding.
 
Residents do not want new accommodations
 
Vinh Loc B apartment block in Binh Chanh district has been built for five years for canal households' relocation with nearly 2,000 apartments and 500 land plots. However the resettled ratio has been 15 percent.
 
Local dwellers say that previously they lived along polluted canals partly for their livelihood. After removing to the new apartment buildings, they enjoy better living environment and sufficient amenities. However many do not know what to do for a living as they are the poor with main jobs being dockworkers, vendors and scrap material collectors.
 
Besides livelihood, residents have been afraid of other apartment fees comprising parking lot, cleaners and maintenance.
 
In a meeting with citizens at Vinh Loc B apartment block recently, chairman of the HCMC People's Committee Nguyen Thanh Phong affirmed that the move is aimed to relocate residents to better accommodations although their work and children's schooling might be inconvenient because they have removed to farer places than their old homes.
 
Therefore, he prompted related agencies to share difficulties with citizens and hoped that citizens will advocate the city in implementing the urban planning policy. This is a large program requiring consensus from many sides especially residents.